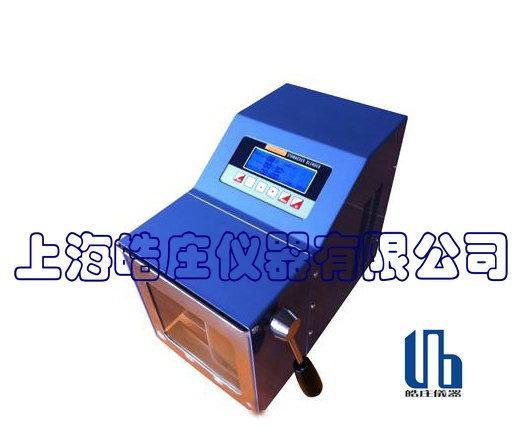 The LNB brand sterile homogenizer produced by Shanghai Haozhuang Instrument Co., Ltd. makes the process of extracting bacteria from solid samples very simple, just add the sample and diluent to the sterile sample bag, Then put the sample bag into the tapping homogenizer to complete the sample processing. Effectively separate the homogeneous samples of microorganisms contained inside and on the surface of the solid sample, ensuring that all the samples are mixed in the sterile bag. The processed sample solution can be directly sampled and analyzed without risk of sample change and cross-contamination.
Application areas: microbiological analysis of food; homogenization of animal tissues, biological samples, cosmetics; meat, fish, vegetables, fruits, biscuits; microbiological analysis of drugs, etc.
Sterile homogenizer is our common homogenization instrument, its function is very powerful, but how to use it well is a problem worthy of research. Today Shanghai Haozhuang will accompany you to talk about how to operate the sterile homogenizer Is better, how can we extend the life of the sterile homogenizer?
Shanghai Haozhuang tells you how to extend the life of a sterile homogenizer. For details, please refer to the following:
1. Put the sample to be processed into a sterile homogeneous bag first
2. Open the homogenizer door and clamp the opening of the sterile bag when closing the homogenizer door.
3. Set utility programs (such as slap speed, slap time, etc.) to perform slap homogenization.
4. After the experiment, open the homogenizer door and take out the sample.
5. When the homogenizer is not in use, the power supply should be cut off.
The sterile homogenizer has a particularly obvious effect on the homogenization of animal tissues, and is particularly suitable for the detection and homogenization of microorganisms. After the homogenization is completed, there is no need to clean, and the homogenizer itself is processed, which is particularly convenient and healthy .
The above information is provided by Shanghai Haozhuang Instrument Co., Ltd. Haozhuang Instrument is a high-tech company dedicated to the field of refrigeration and ultrasound, with advanced and reasonable product design. Stable and reliable quality, timely and perfect after-sales service. We will always follow the product development tenet of "high starting point, high technology and high quality", follow the service tenet of "customer satisfaction", and return each of our users with high-quality products and services. Shanghai Haozhuang looks forward to your consultation buy!
Other Staples,Staples Pens,Multifunctional 13/6 Heavy Duty Staples,Soft Color 13/6 Heavy Duty Staples
SHAOXING YIYOU STATIONERY CO.,LTD , https://www.yiyou-staple.com